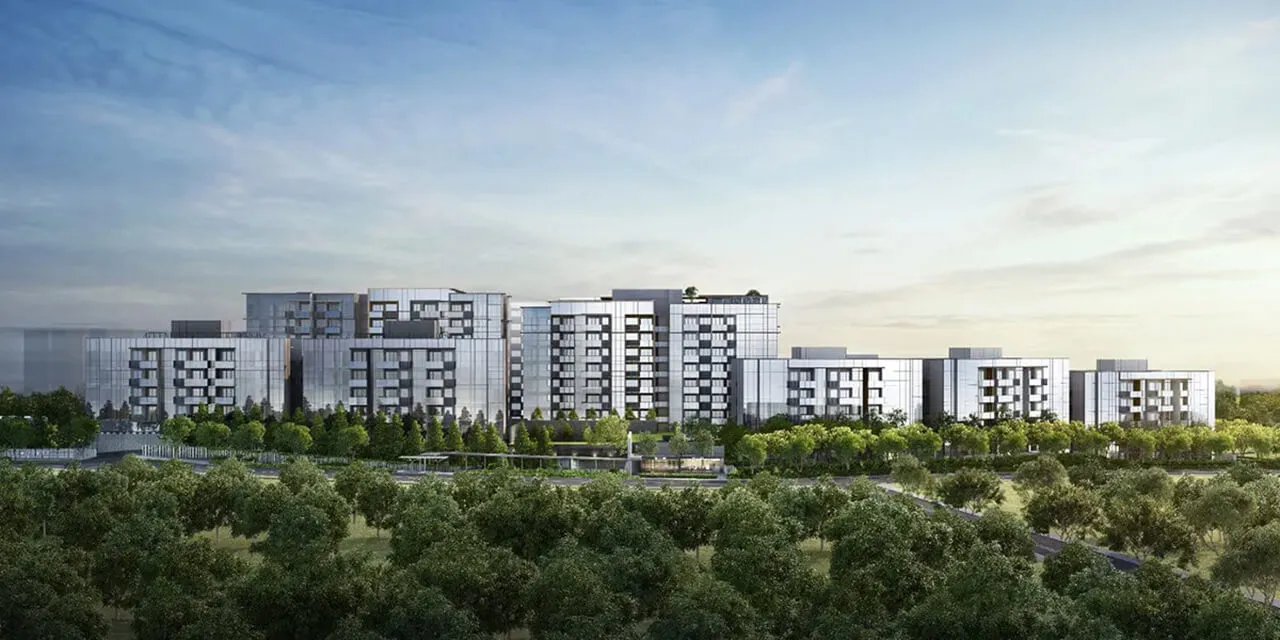 Forett at Bukit Timah Official Site
Freehold Condominium at Exclusive Quaint Enclave
---
Forett Condo Latest Unit Sold :
#05-77 (2 Bedroom Deluxe), #05-08 (2 Bedroom Deluxe), #05-02 (2 Bedroom Deluxe),
#05-56 (2 Bedroom Deluxe), #01-32 (2 Bedroom + Study), #02-77 (2 Bedroom Deluxe),
#05-80 (2 Bedroom Deluxe), #09-24 (2 Bedroom + Study), #05-89 (2 Bedroom Deluxe)
---

As Forett at Bukit Timah is fully sold, explore more real estate options with Current New Launches, or browse the archives of Fully Sold Projects.
01-04-23: Get the Best Exclusive Price & Discounts from our Developer Sales Staff, only by prior appointment here.
01-04-23: Our Forett at Bukit Timah Price Chart & Forett at Bukit Timah Balance Unit Chart is now updated and available here.
Latest Unit Availability: Last 0 Units
1 Bedroom + Study : 0 / 76
2 Bedroom : 0 / 72
2 Bedroom + Study : 0 / 149
2 Bedroom Deluxe : 0 / 93
3 Bedroom Deluxe : 0 / 119
3 Bedroom Dual Key : 0 / 29
3 Bedroom Premium : 0 / 28
4 Bedroom Premium : 0 / 50
4 Bedroom Suite : 0 / 9
5 Bedroom Suite : 0 / 8
03-08-20: In accordance with Government Regulations in the midst of the COVID-19 situation, our showflat will be implementing Viewing by Appointment. While confirming your viewing appointment, do browse our Virtual Tour here.
02-01-20: Use our Forett Condo Mortgage Calculator to calculate the Downpayment and Monthly Loan Instalment.
---
---
Introduction to Forett at Bukit Timah
Forett at Bukit Timah is a new launch Freehold residential condominium, located at Toh Tuck Road, Bukit Timah. Developed by a joint venture of two experienced property developers, Qingjian Realty and Perennial Real Estate Holdings, residents at Forett at Bukit Timah can expect immaculate development quality, in a perfect environment for family living.
Forett Condo – Well Located & Prestigious Freehold Condo
Forett @ Bukit Timah comprises 633 residential units, spread over two distinct residential portions. With 9 blocks of low-rise 5-storey, and 4 blocks of high-rise 9-storey, this gives the entire development a gentle visual flow when viewed from outside. This configuration also maximises the views each unit can have and will suit families with different preferences.
With a multitude of condominium facilities, there is ample space for residents to relax and enjoy. These facilities include the 50m Lap Pool, 30m Lap Pool, Gymnasium, Tennis Court, Clubhouse Facilities, Sky Pavilion, and various Lifestyle Pavilions and Landscape Greenery.
With a wide selection of floorplan layouts, from 1 Bedroom + Study units to 5 Bedroom Suite Units, families of all sizes and preferences can find their favourite home layout. With varying floor levels of the blocks, there are pool view and unblocked greenery view units to select from.
Forett Condo is well-located in the heart of the Toh Tuck Road / Bukit Timah residential enclave. With Beauty World MRT Station (Downtown Line) within walking distance, and Expressways BKE & PIE nearby, connectivity to all parts of Singapore is enhanced. For amenities, residents are blessed with the arguably the best food in the west, with Bukit Timah Food Centre, and the various late -night eateries along Cheong Chin Nam Road and Jalan Jurong Kechil.
For families with school-going children, top schools such as Pei Hwa Presbyterian Primary School is within reach. Other top secondary and junior colleges are easily accessible, within a few MRT Stops along the Bukit Timah Road Stretch.
Forett Project is extremely well-priced. With its freehold status, premium imported fittings, and built by the best developers, Forett offers great value for its residents.
Editor's Review: With an enviable freehold status, and its proximity to key amenities and transport nodes, residents at Forett can find the perfect balance of greenery living, convenience, and long-term value preservation. It is well-suited for family living, especially for those who desire top-quality educational institutes and the best living environment for years to come.
Contact Us for Forett at Bukit Timah Showflat
Our Forett Showflat is available for viewing by appointment (10am – 7pm). Do contact us to make a showflat appointment.
---
Forett at Bukit Timah Location Map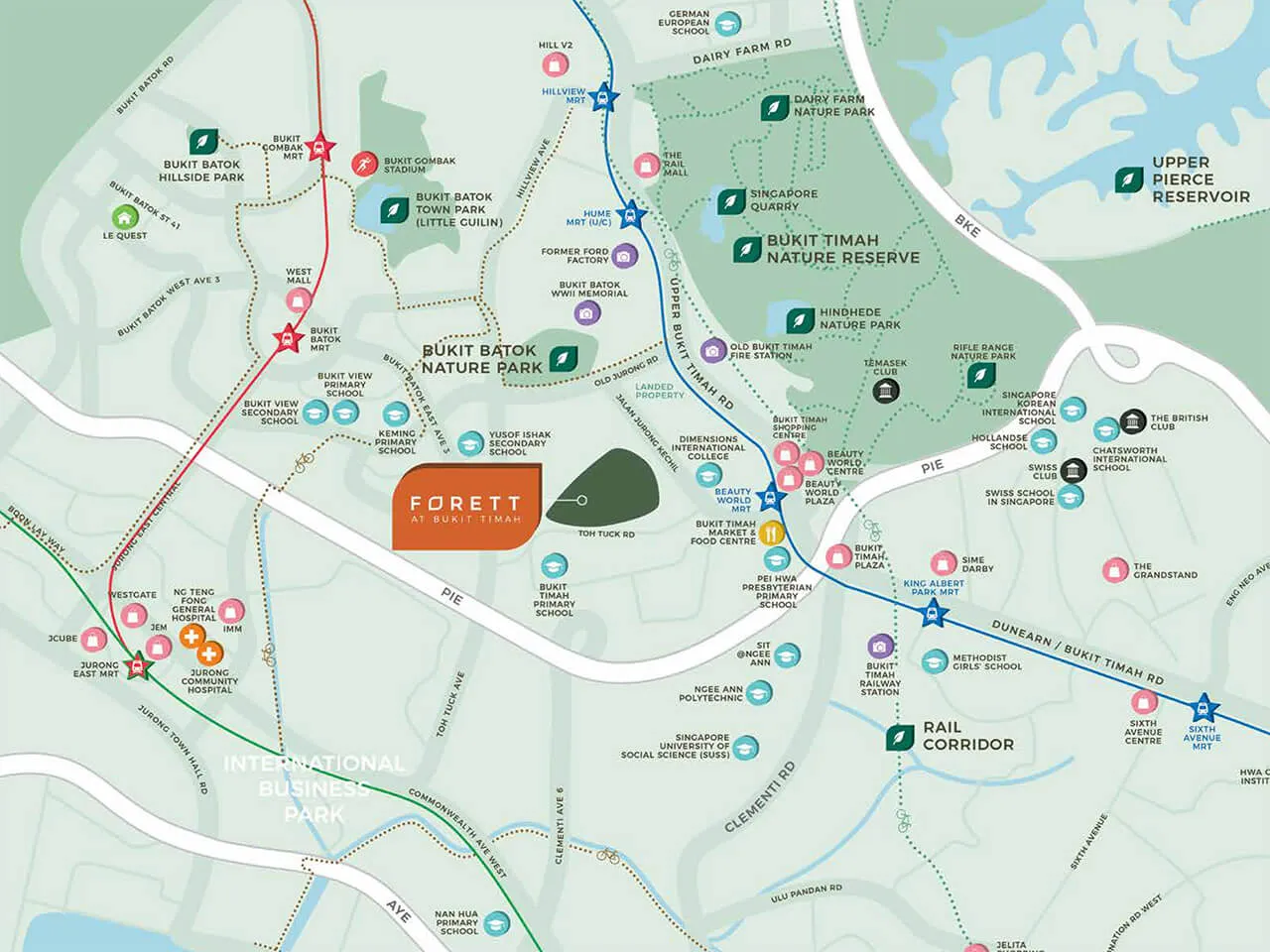 Click Here for Enlarged Location Map for Forett at Bukit Timah
---
Forett at Bukit Timah Project Info
| Project Name: | Forett at Bukit Timah |
| --- | --- |
| District: | 21 |
| Developer: | Qingjian Perennial (Bukit Timah) Pte Ltd |
| Address: | 32 Toh Tuck Road Singapore 596710 |
| Tenure: | Freehold |
| Site Area: | 33,457 sqm / 360,130 sqft |
| Type of Development: | Private Condominium |
| No. Of Units: | 633 Residential Units |
| No. of Blocks/Storeys: | 4 Blocks of 9-Storey & 9 Blocks of 5 Storey Residential Flat Development with Basement Carpark and Shops |
| No. Of Carparks: | 629 Carpark lots and 5 handicap lots |
| Plot Ratio: | 1.4 |
| Architect: | P&T Consultants Pte Ltd |
| Landscape Consultant: | Ecoplan Asia Pte Ltd |
| Main Contractor: | Qingjian International Group Pte Ltd |
| M&E Engineer: | United Project Consultants Pte Ltd |
| Facilities: | Forett Club, Lifestyle Pavilions, Karaoke Room, Theatrette, Sky Pavilion, Summer Lawn, Blossom Garden, 50m Lap Pool, 30m Lap Pool, Putting Green, Gymnasium, Tennis Court, Playground |
| Developer Licence: | 1351 |
| Project Account No.: | UOB Limited for Project A/C No. 451-311-017-5 of Qingjian Perennial (Bukit Timah) Pte Ltd |
| Expected Date of TOP: | 6-Sep-2024 |
| Expected Date of Legal Completion: | 6-Sep-2027 |
Forett at Bukit Timah
Proudly Developed By:

---